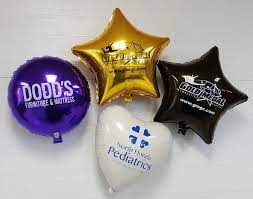 If you're looking for balloons for a party or an event, knowing the various types of balloons can help you get exactly what you need for your party. Balloons are one of the most cost-effective marketing tools available. They're eye-catching and popular with everyone.
Latex Balloons
Latex balloons are by far the most popular form of balloon. Printing your logo, text, or artwork design on the balloon is a simple way to customize it. They generally come in sizes ranging from 9 to 18 inches in length. You can check out some of our choices here.
Mylar/Foil Balloons
Although mylar balloons are more expensive than latex balloons, there are several reasons for this. They are clearly higher-quality balloons with a metallic appearance and feel, as well as a larger imprint area and significantly longer float durations. A cute, brilliant, sparkly floating mylar balloon attracts more attention than anything else.
Difference Between Latex Balloons & Mylar Balloons
Mylar balloons are not compatible with balloon cups and sticks. Unlike latex balloons, which are stretchy and flexible, they do not attach well to the balloon cups, and the final result is a partially flopped over balloon. When inflated with helium gas and strung with thread, customized mylar balloons are at their finest and most beautiful.
Chloroprene Balloons
These are composed of exceptionally high-quality latex that is up to 10 times stronger than normal latex balloons and repels the sun's damaging UV radiation. Float durations can reach approximately 3 weeks, depending on the size of the balloons you buy. Unfortunately, they are not customizable. However, brightly colored chloroprene balloon is a wonderful way to draw attention to your company or event from afar! Take a look at what these balloons look like here.