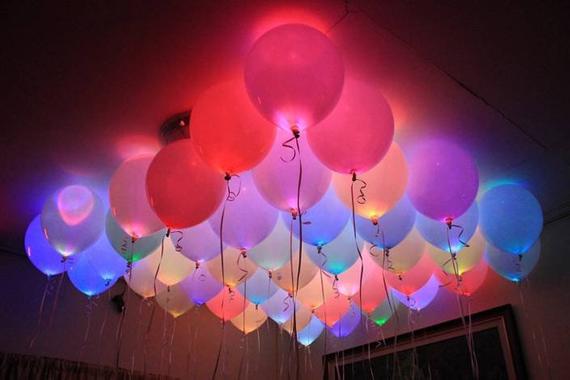 LED balloon lights are a hot trend for cool parties, no doubt about it. But there are so many types and brands that it's difficult to know which ones to choose. We've done the research for you. But first…
How do LED Balloons Work?
There are two basic types of LED balloons. On one hand, you have the ready-made bundles, where the LED light is attached to the inside of the balloon. Popular brands for this type of illuminated balloons are Lumi-Loons and iLLooms.
On the other hand, you can purchase light-weight, battery operated LED lights separately, and put them into or around the latex balloons yourself. A trendy example for the latter are the so-called BoBo balloons.
iLLooms or Similar LED Balloon Bundles
These balloons have the LED light attached inside, at the end opposite to the balloon neck. You activate the light by pulling on the paper tab that's protruding from the balloon's mouth.
The LED lights last for up to 15 hours, although some users say they glowed much longer. Just be aware that these lights are small and therefor not very bright. You'll get the best effect if you use them at night or in a darkened room.
You can inflate them either with air, using your mouth or a balloon pump, or with helium. Be careful not to over-inflate them, or they may pop. The packs come with a measuring band to help you blow them up to the correct size.
Because the battery / light bundle is attached to the inside of the balloon, opposite of its neck, the inflated balloon tends to orient with the mouth upwards.
So, when you inflate them with helium, they won't float straight upside, as a regular balloon would do, but sway sideways.
Once the battery is empty, you cannot reuse the LED balloon bundles.
PROS AND CONS
PROS:
Easy to inflate with either air or helium
Long life time
Reasonably priced
CONS:
Not very bright
The LEDs may need some squeezing or tapping to get them turned on.
Not reusable
Any other platforms to shop for online balloons?
We are also now available in Shopee and Carousell. Just add us to your cart and check out together with your other items! Simple and hassle-free! We have many exciting reasonable and affordable online balloon packages.
For more information check us out at BalloonParty and start shopping with us for all your events. We are a one stop center Balloon Supplier Singapore for all parties!
We provide the best services and we assure you that you do not have to worry about buying balloons from other shops. You can can everything you want. We are trusted Balloon Supplier Singapore.
If you have any further enquiries you can contact us directly or email, we will be more than willing to clarify things with you.
Email: Support@balloonparty.sg
Monday to Saturday – 9:00 am to 6:00 pm