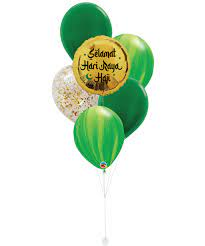 What Hari Raya Haji balloons can you get for this year's celebration. Hari Raya Haji is coming this year?
More importantly, do you know which day and how are you going to get these theme balloons on that day? Ever think of the reason why we have this as a public holiday in Singapore?
Why is it so important for Muslims to celebrate during this time of year! Also, what do they do during their day off? Our Muslim neighbors and friends get to have their special day off during this time of year to spend time with one another. They also visit their loved ones and even go to their neighbor's houses to enjoy talking to each other and eat traditional Malay food.
They might plan various activities for themselves to have fun together and also might have balloons during their celebration.
When they visit other people's houses. Green packets would also be what Muslim children receive when going for visiting during this 2-day public holiday.
Rather than talking about the holiday itself. But have you got a themed balloon for that specific holiday? Nowadays balloons have changed and there are different types of balloons with different designs and colors. Most stores won't have the design your looking for or may not offer this type of balloon. If you are anxious to find one and are out of ideas?
The balloon company you can go to that provides theme balloons would be the Give Fun website. They sell many balloons and not only that but, they also sell gift boxes, decors, banner & buntings, parties and service. This also includes accessories suited for birthday parties.
They also sell Hari Raya balloons that will benefit you, when it comes to looking for them based on the different holidays. For their pricing for each balloon, it is affordable and cheap so you no need to be worried about the payment cost.
If you want to get other balloons instead of this website. I strongly suggest that you go to the balloon party's website if you want to purchase from their store.