If you are looking for balloons for a party or festival, it would be good to know the various varieties of balloons types available on the market today. This is so that you can purchase precisely what you require for your event. Balloons are one of the most powerful marketing tools available. They're eye-catching, appealing to both children and adults. Moreover, it have a wide imprint area that allows the logo or message when look from afar.
1) Latex Balloons Types
Latex balloons are the most common kind of balloon types. These circular shape of balloons are make of recyclable latex. It can be conveniently personalize by screen printing the logo, text, or artwork style. They are usually available in sizes ranging from 9 to 18 inches.
In general, latex balloons absorb helium well. It typically last 10 to 14 hours of float time, though different factors. This includes how the custom latex balloons are sealed or how much helium is used, play a significant role in deciding float time. Latex balloons are still very adaptable, since they can be used without helium. Using balloon attachments is really common because you don't have to buy or rent helium tanks, which saves you money. Latex balloons may be filled with regular air using an air inflator.
2) Mylar Balloons
Mylar balloons are more costly than latex balloons types. They are, without a doubt, higher quality balloons with a metallic appearance and feel, as well as much larger imprint areas and much longer float times. Nothing catches the eye like a cool, colorful, shiny floating mylar balloon.
3) Cloudbuster Balloons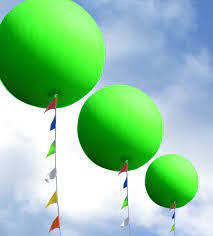 Cloudbuster balloons also known as chloroprene balloons types. This are make of high-quality silicone that repels the ultraviolet radiation. It is up to ten times thicker than normal latex balloons. Float times will often exceed 3 weeks depending on the size of the cloudbuster balloons.
Feel free to purchase balloon with us – Balloon Party. We can ensure the balloons are in the top-notch condition.