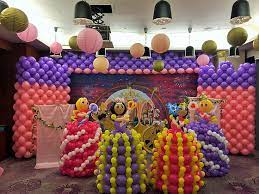 A balloon specialist coming to your party. What type of design do they have install for us?
We all feel bored during our birthday parties as our parents set them up by themselves. It may be not what you hoped to have at a birthday party when setting up balloons. When they do decorations using balloons, they might not be an expert in designing the decorations or even know how to do it. If this happens, then your party would be unattractive to your guest, when they visit your house.
What would be better for you to solve your problems if you're a parent who needs assistance to plan a perfect party. You need a balloon specialist to help you plan your event. Some of them might focus on designing for you depending on them the event. Other balloon specialists do their work in an office. Where they used their heads to think and come up with different balloon decorations or balloon sculptures. There are party specialist another term for balloon specialist who do designs as well.
If you're looking for a balloon specialist in Singapore. I suggest that you go to the Happier Balloon SG website. They are Singapore's best service provider for balloon decorations. They have a balloon specialist who has 7 years of experience. Their company offers different designs like large-scale balloon landscape designs, balloon animals, and balloon swords for parties and corporate events as well. Other things they offer are balloon gifts and birthday party packages. They have event services and also a balloon sculpture workshop where you attend to learn how to make your balloon sculpture design.
They even have a blog for all their previous works if you want to pay for their services in balloon decoration designs.
Here is our Balloon Party's website.