Hosting balloon parties are fun, but have you ever wondered the types of balloon used in balloon parties? Let's take a look at the common types of balloon used in parties and what they are often used for.
Common types of balloons used in parties
Latex Balloons – These balloons inflate to an oval shape and can be easily customized by screen printing your logo, text, or artwork designs
Foil Balloons – These balloons are of higher quality with a metallic look and feel, and has much larger imprint areas
These party balloons are often used as,
Letter Balloons
Toy Balloons
Helium Balloons
There are benefits to both latex and foil balloons! However, they also have some disadvantages. Lets take a look at their benefits and disadvantages of each of them.
The Benefits of Latex Balloons
They are the most affordable out of the different types available
It is a very versatile material so they can be filled with helium, air or water
Latex balloons are biodegradable and environmentally safe
The Benefits of Foil Balloons 
Foil balloons are long-lasting which makes them great for longer events
They are available in a huge range of shapes including, hearts, giant letters, numbers and stars
The balloons have a mirror-like quality, which makes them popular with photographers and artists
The Disadvantages of Latex Balloons
Due to the porous latex membrane, latex balloons will deflate faster than foil balloons. So its recommended to only using them for 1-day events.
Balloons need to be inflated just before the event, so it is important to make sure you allow time to do this before your event
The Disadvantages of Foil Balloons
Foil balloons are more expensive than the latex ones so you will need to allow for a bigger budget if you are wanting a large display
Foil balloons are made of  Myllar material, so there are no practical recycling methods, which is why people recommend getting them in smaller quantities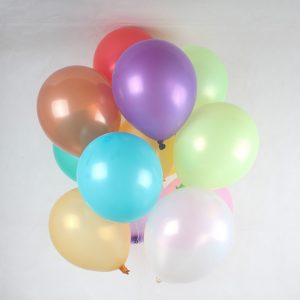 Now that you know their pros and cons, I hope that with this information, it will help with your Balloon party! Click here to view  what balloon party in Singapore may offer!