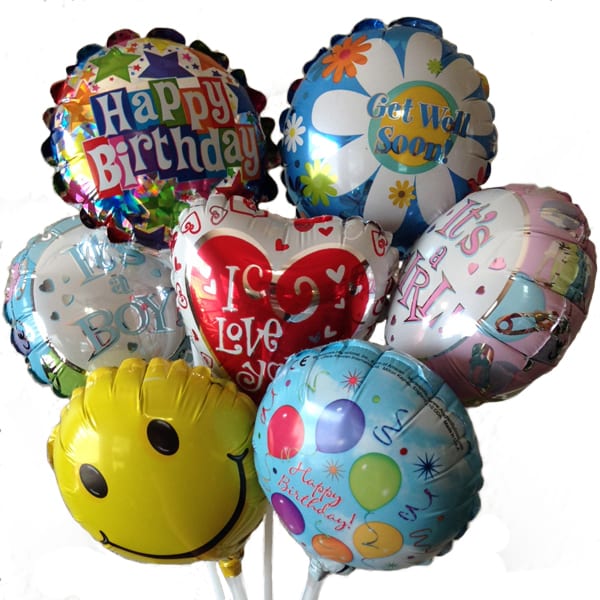 Make your party look impressively festive with help from themed Mylar balloons. We stock these foil decorations in several styles and shapes to meet your event planning needs. Search for Mylar letter balloons and use them to spell out a person's name or another relevant word. Alternatively, check out Mylar birthday balloons that specifically pay tribute to age-related milestones. These are great ways to help a person see that being "over the hill" can mean that the most lighthearted days are still ahead. Bring bright colors and a contemporary look to your festivities by purchasing a set of striped Mylar balloons.
To make a young attendee feel particularly special, buy Airwalkers die cut balloons. These Mylar balloon options feature recognizable cartoon characters in life-sized inflatable versions. Your child is sure to love seeing a large, blown up version of their favorite fictional character. Check out seasonal themed balloons, too, such as those meant to celebrate Christmas or Cinco de Mayo. Shop for these items now and see how our assortment makes it possible to decorate with ease. Balloons add a festive touch to any occasion.
Other Platforms To Shop For Mylar Balloons?
We are also now available in Shopee and Carousell. Just add us to your cart and check out together with your other items! Simple and hassle-free! We have many exciting reasonable and affordable Mylar balloon packages
For more information check us out at BalloonParty and start shopping with us for all your events. We are a one stop center for Party Balloons Singapore for all parties!
We provide the best services and we assure you that you do not have to worry about buying party balloons from other shops. You can can everything you want. We are trusted Balloon Supplier Singapore.
If you have any further enquiries you can contact us directly or email, we will be more than willing to clarify things with you.
Email: Support@balloonparty.sg
Monday to Saturday – 9:00 am to 6:00 pm