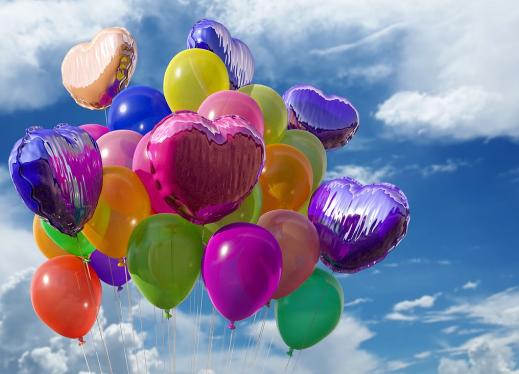 BalloonParty is one of the leading balloon seller/retailer of party supplies in Singapore. It is your one stop shop for all your needs for your celebration. We offer a wide range of party-themed balloons tat will grace your events and create memorable memories.
Types Of Balloons
As a balloon seller we have wide range of helium balloons that will help to make a great impact to your celebration. We have plain latex balloons, printed latex balloons, confetti filled balloons, foil balloons, bouquet of balloons, alphabet balloons, number balloons, airwalkers, orbz balloons, insider balloons and singing balloons. Besides the wide varieties, we also offer you the best quality helium balloons.
As Balloon Seller, The Events We Cater To
We cater to all ages and many occasions like birthday, age related birthday, milestone birthday, Engagement, Bachelorette, Wedding, Anniversary, Retirement, New Born, Get Well, Special Someone, Teachers' Day, Thank you, Congrats, Miss You balloons, Characters balloons, licensed balloons like Disney, Marvel, Star Wars, Comics character, Universal, and many more.
Wide Range Of Colors And Shades
Color is probably the most important factor when choosing balloons because the combination of colors creates a certain mood, and the palette should correspond to the concept of the event and the preferences of the guest of honor.
Today, you can easily order balloons of the most extraordinary trendy shades like Metallic, Pearl Blue, Fashion Black, Chocolate, Coral, etc. Buying latex balloons in bulk cheap will allow you to create a fabulous palette for your event.
Wide Range Of Balloon Shapes
The shape of the balloons also plays a important role. For example creating mood, attracting attention to your decorations, and creating designs from air-filled or latex helium balloons. This includes classic round balloons of different sizes, link-o-loons, punch-balls, twisting balloons, specialty-shaped balloons (hearts, stars, animals, etc.).
Balloon Seller Platforms To Shop  For Balloons?
We are also now available in Shopee and Carousell. Just add us to your cart and check out together with your other items! Simple and hassle-free! We have many exciting  reasonable and affordable online balloon packages and customizable balloon.
For more information check us out at BalloonParty and start shopping with us for all your events. We are a one stop center Balloon Seller Singapore for all parties!
We provide the best services and we assure you that you do not have to worry about buying balloons from other shops. You can can everything you want. We are trusted Balloon Supplier Singapore.
If you have any further enquiries you can contact us directly or email, we will be more than willing to clarify things with you.
Email: Support@balloonparty.sg
Monday to Saturday – 9:00 am to 6:00 pm